The case is Missouri v. Biden. Never heard of it? That's because no one seems to be covering it, not even "conservative" media. It relates to the suppression of "misinformation" on social media that began within three days of Biden "taking office." Now the hard evidence is coming  out, and wow… do these people hate you, hate the constitution, hate this country. I wonder how many people died from covid, died from "vaccines," died from being snorkeled, died from remdesivir… because they never saw posts and tweets warning them, and providing the FLCCC protocol for prevention and treatment. These people are monsters. Tracy Beanz at undercoverdc.com is pretty much the only person I see covering this. The following is her revealing court docs and email trail. Much more to be seen at the link at the end. -nvp
——
"On July 4th, after over a month of waiting, the judge finally ruled and GRANTED this injunction, which bars social media companies from engaging in meetings, discussions, etc., where the purpose is to flag content or collaborate on censorship. We will go over this in detail in a moment.
"The order is groundbreaking, but this case is groundbreaking. It is one of the most important civil liberties cases of our lifetimes. I implore you to look at my pinned tweet, as the thread is highly detailed and covers everything thus far. Before we continue, a round of applause for one of the only judges left with the cajoles to do the right thing. He should be commended."
…
"In his introduction, the judge points out that the censorship almost EXCLUSIVELY targeted conservative speech. This was a point he asked about in the hearing. The government's reply was that 99% of all "misinformation" just happens to come from the right….. Marinate on that for a moment…"
The topics censored and suppressed:
1. The Hunter Biden Laptop Story prior to the 2020 election
2. The lab-leak theory of COVID-19's origin
3. The efficacy of masks and COVID lockdowns
4. The efficacy of COVID-19 vaccines
5. Election Integrity in the 2020 Presidential Election
6. The security of voting by mail
7. Parody Content about the government
8. Negative posts about the economy
9. Negative posts about Joe Biden
I share below just some of the evidence. Everything written below is Tracy… link at the end to her full reportage.
————
On 1/23/21, right after Biden took office, the White House asked Twitter to remove a tweet from the platform. I BEG anyone on the left to come and try to dispute that this single instance is grounds for a win in this suit. They also asked to have other tweets like it removed.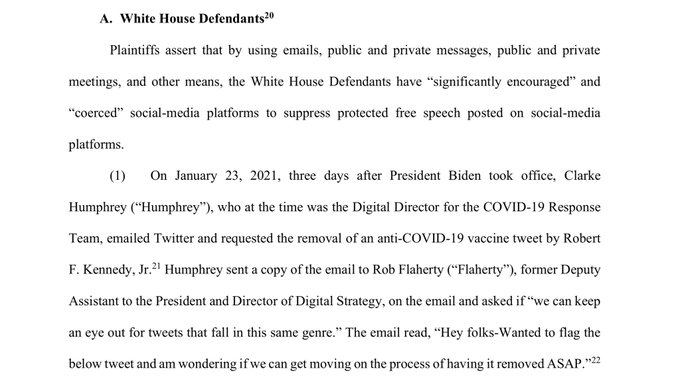 On 2/6/21, Rob Flaherty (who has left his role at the White House) demanded Twitter remove a Biden parody account using the language below. Twitter acted within 45 minutes.

On 2/7/21, Twitter granted the White House access to its support portal because they were getting too many censorship requests from the White House and wanted to streamline the process. So many people were reaching out with censorship requests Twitter said they were "bombarded."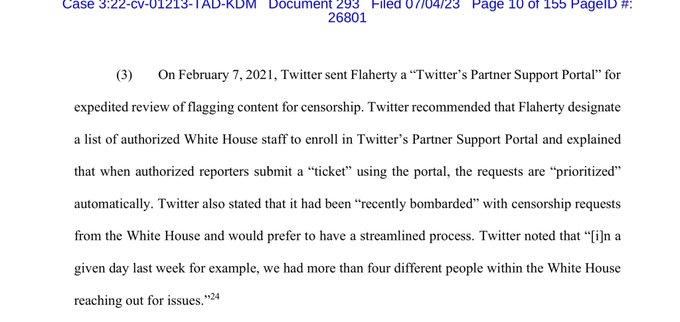 On 2/8/21, Flaherty assumed his role as a quasi "Trust and Safety" executive for Facebook, demanding to know specifics about how Facebook was removing content that he didn't like. It would only get much worse from here.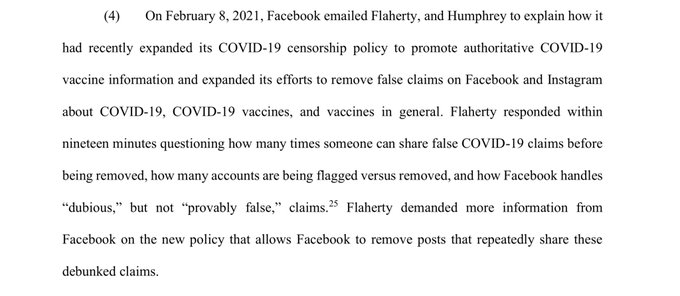 On 2/9/21, Flaherty emailed Facebook, accusing them of causing political violence because they didn't censor COVID-19 claims. Facebook responded that "vaccine-skeptical" didn't violate its policies. However, in order to satisfy the White House because of their urging, they would limit the distribution of content the White House didn't like.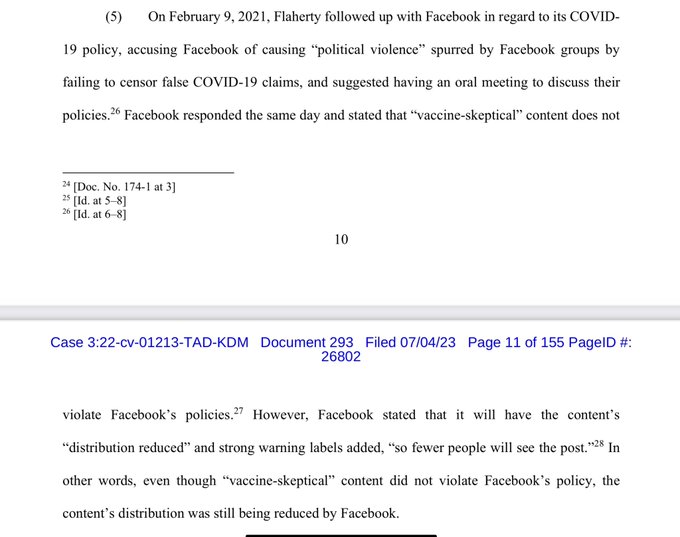 It is important to note, that had it not been for the White House pressure, Facebook WOULD NOT have taken any action on this content, as it DID NOT violate its policies.
Facebook was beholden to Rob Flaherty. He often required they provide him detailed information and reports about "misinformation" on the COVID shot that was NOT being censored. He was very interested in censoring ANY SPEECH that may contribute to "vaccine hesitancy."


But it wasn't only Facebook. On 3/1/21, Flaherty and the HHS had a meeting with Twitter. Correspondence between them about the meeting shows Twitter responding to THEIR requests to censor "misleading information" on Twitter.